11-Infotech reels in new clients
KUCHING, 24 January 2014: Tradewinds Tours and Travel, a subsidiary of Singapore Airlines, has appointed Thailand-based 11-Infotech Systems as its official vendor to provide B2B online booking solutions and back-of-the-house software.
11-Infotech Systems' CEO-business development, Chartchai Pothong and Tradewinds general manager, Chua Kian Hwa, announced the deal during the ATF Travex, Thursday.
The Thai company will supply Tradewinds with its full online B2B services and what is identified as TTS 9,0 an operations and accounts solution that will serve Tradewinds clientele both in Singapore and overseas.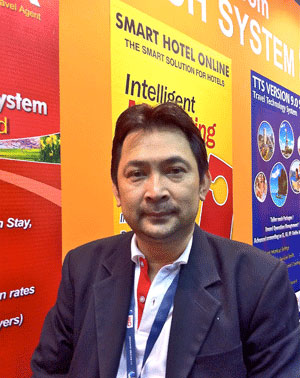 Tradewinds is the tour operator arm of Singapore Airlines selling tours for FITs and tour groups to worldwide destinations in the SQ network.
11-Infotech had strong presence at this year's Travex selling its XML solutions to hotels and tour operators represented at the show.
Meanwhile, the company also announced that Freme Travel Services of Brunei Daraussalam has moved to the 11-Infotech system using the TRAVFLEX B2B e-travel distribution system and TTS v9.0 operations and accounts solution for its leisure inbound, outbound business and corporate travel accounts.
Tour East Group also migrated to 11-Infotech's system recently for its online travel business in Singapore, Thailand, Malaysia, Hong Kong and Indonesia.
Other new members announced during Travex were Asian Links Travel Service, Indonesia, Global Center Holiday, Indonesia and Wel-Travel Australia.
Commenting on the recruitment of more members in the ASEAN region, Mr Chartchai said he was proud of his team's efforts and success in expanding the Thai firm's network and services.
"This is an ASEAN born venture, developed entirely by ASEAN software talent and its acceptance in the market shows the solutions are a perfect fit for the region's B2B tour operators and online travel agencies," he told TTR Weekly.